These baked canned salmon recipes are way cheaper and easier than cooking a salmon filet.
Keep these recipes in your back pocket for dinner on a busy day.
Related: 24 Best Ahi Tuna Recipes 
Best Baked Canned Salmon Recipes
In a dinnertime rut? Try these baked canned salmon recipes.
1. Baked Canned Salmon Patties With Bread Crumbs
These baked canned salmon patties go well with a cucumber-dill salad, buttery mashed potatoes, or steamed vegetables on the side.
Related: The Best Canned Seafood of 2022
2. Baked Canned Salmon Loaf
This recipe for salmon loaf replaces meatloaf, which saves you money.
This healthy alternative stems from Depression-era cooking and was sometimes considered a less expensive meal choice than other protein sources.
3. Cheesy Canned Salmon Spinach Tart
Ingredients
CRUST
2 teaspoons cold water
1 teaspoon cold cider vinegar
1 1/2 cups all-purpose flour plus more for surface
1/2 teaspoon salt
4 ounces 1 stick cold unsalted butter cut into small pieces
4 ounces cold cream cheese cut into small pieces
FILLING
1 tablespoon olive oil
1 small onion chopped
1 clove of garlic chopped fine
1 cup good quality canned salmon in olive oil broken into small pieces
2 cups spinach cooked and cut into pieces make sure all excess water has been squeezed from the spinach
1 teaspoon fresh thyme
1 tablespoon chopped fresh Italian parsley
4 eggs
1/2 cup heavy cream
1/2 cup milk
salt and pepper to taste
Instructions
Preheat oven to 375 F. Combine water and vinegar in a small bowl. Combine flour and salt in another bowl. Using a pastry cutter or your fingers, cut butter and cream cheese into flour mixture until mixture resembles coarse crumbs with some larger pieces remaining.
Add water mixture to dough in a slow, steady stream, stirring, until mixture just begins to hold together. (Alternatively, pulse ingredients in a food processor.) Turn out onto a piece of plastic wrap. Press dough into a disk. Refrigerate until firm, about 1 hour or overnight.
FILLING
Add olive oil to frying pan on medium-high heat. Add the onion and cook until soft and lightly colored (about 7 minutes). Be sure to stir the onions occasionally. Add thyme, salt, and some crushed pepper. Towards end of the cooking, add in the salmon and spinach. Cook for about another 2 minutes.
While this cooks, in a medium sized bowl whisk eggs with cream and milk. Add a little salt and pepper. Stir in the cooled salmon mixture.
Roll dough to fit your chosen tart pan, then drape dough in pan. Neatly press dough up the sides of the pan and shape it. Set it on a sheet pan. Pour in the egg mixture. Place the tart pan over a foil lined cookie sheet.
Bake for about 35-40 minutes or until the tart is golden brown and the filling is set. Check tart at about 30 minutes. If the tart shell is browning too much, cover the tart with foil paper for the rest of the baking time. Let tart cool before removing from tart pan or slice directly in the tart pan when warm.
4. Canned Salmon Stuffed Mushrooms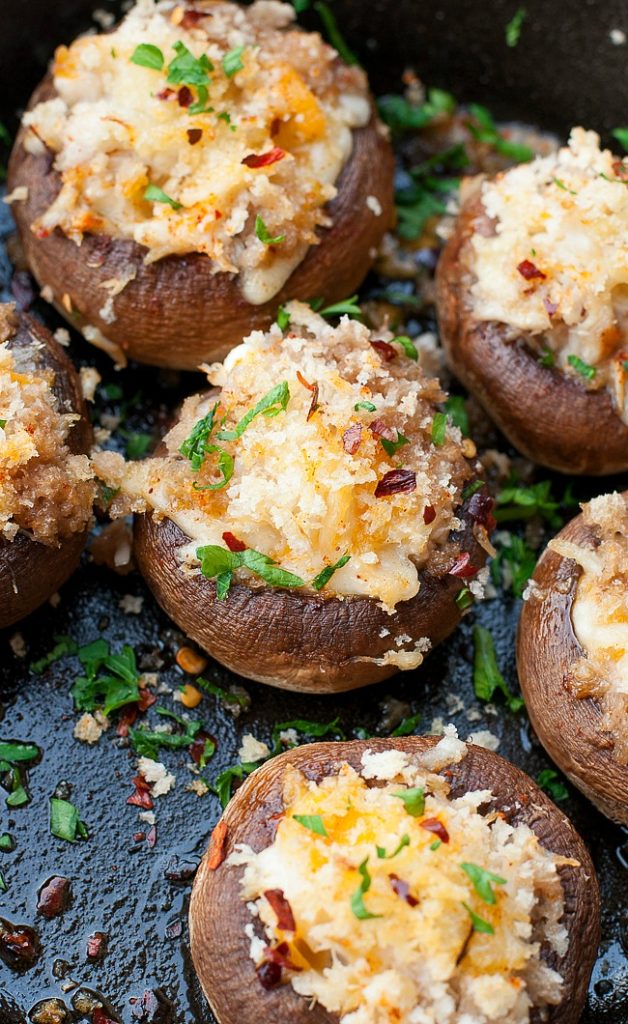 Creamy canned salmon stuffed into mushrooms with Swiss cheese and baked to perfection. These melt-in-your-mouth stuffed mushrooms can be served by themselves as appetizers or alongside a veggie side dish to make a meal.
Ingredients
2 (3 ounce) cans white salmon, drained
1 (8 ounce) package fresh white mushrooms, stems removed
2 (1 ounce) slices Swiss cheese
2 tablespoons mayonnaise
¼ teaspoon dried onion
¼ teaspoon onion powder
1 ½ teaspoons sweet pickle relish
salt and ground black pepper to taste
Instructions
Preheat an oven to 350 degrees F
In a large mixing bowl, combine the salmon, Swiss cheese, mayonnaise, sweet relish, dried minced onion, onion powder, salt, and pepper. Place the mushroom caps on a baking sheet and fill with the tuna mixture.
Bake for 20 to 25 minutes, or until the mushrooms are soft and begin to release their juices.
This dish is simple to make and can be on the table in less than an hour.
5. Creamy Salmon Stuffed Shells
Dinner has never been easier!
Ingredients
24 uncooked jumbo pasta shells
1 tablespoon finely chopped green pepper
1 tablespoon chopped red onion
1 teaspoon plus 1/4 cup butter, divided
2 cans (6 ounces each) salmon, drained
1 package (5 ounces) frozen cooked salad shrimp, thawed
1 large egg, lightly beaten
1/2 cup shredded part-skim mozzarella cheese
1/4 cup mayonnaise
2 tablespoons plus 4 cups 2% milk, divided
1-1/2 teaspoons seafood seasoning, divided
1/4 teaspoon pepper
1/4 cup all-purpose flour
1/4 teaspoon coarsely ground pepper
1-1/2 cups grated Parmesan cheese
Instructions
Cook pasta according to package directions.
Meanwhile, in a small skillet, saute green pepper and onion in 1 teaspoon butter until tender; set aside.
In a large bowl, combine salmon, shrimp, egg, mozzarella cheese, mayonnaise, 2 tablespoons milk, 1 teaspoon seafood seasoning, pepper and green pepper mixture.
Preheat oven to 350°. Drain and rinse pasta; stuff each shell with 1 rounded tablespoon of seafood mixture. Place in a greased 13×9-in. baking dish.
In a small saucepan, melt remaining butter over medium heat. Whisk in flour and coarsely ground pepper; gradually whisk in remaining milk. Bring to a boil; cook and stir 2 minutes or until thickened. Stir in Parmesan cheese.
Pour over stuffed shells. Sprinkle with remaining seafood seasoning. Bake, uncovered, 30-35 minutes or until bubbly.
6. Canned Salmon Empanadas Recipe
Made with canned salmon, these baked empanadas are good hot or cold. This canned salmon recipes is a keeper.
Ingredients
2 tablespoons of oil
1 small yellow onion sliced
2 bell peppers red and green, sliced
2-3 garlic cloves crushed
1 tablespoon of paprika
3 cans salmon (15 oz.)
1 tablespoon of dried oregano
½ cup of olives sliced
1-2 tablespoons of capers
1 tablespoon of lemon juice
Salt and pepper to taste
Filling Instructions
Heat the oil in a large frying pan, add the onions, peppers, crushed garlic, and paprika. Cook until golden the onions and peppers are soft and start to brown, about 15-20 minutes.
Add the canned salmon, mix and cook for another 5 minutes. Stir as needed.
Add the oregano, sliced olives, capers, and lemon juice. Mix well, taste and add salt/pepper to taste. Cook for a few minutes, then remove from heat and let the salmon fish mix cool down before using to fill the empanadas.
Assembly
Place a large spoonful of the salmon filling on the center of each empanada disc
Fold the empanada discs and gently seal the edges with your fingers. Twist and fold the edges of the empanadas with your fingers. You can also use a fork to press down and seal the edges.
Chill the empanadas for at least an hour, this will help them seal better and prevent them for opening while baking
Bake
Pre-heat the oven to 400F (200C)
Brush the empanadas with the egg wash before baking; this helps them achieve that nice golden finish when baked
Bake the empanadas for 18-20 minutes or until golden on top
Serve the empanadas alone or with a dipping sauce
7. Canned Salmon Baked Burritos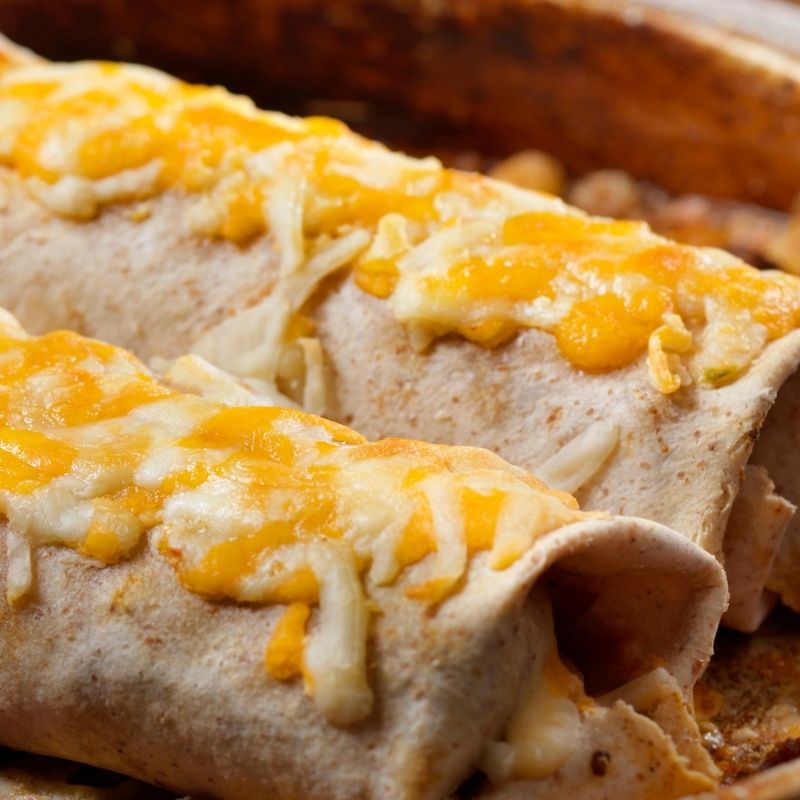 Everyone should know how to make canned salmon burritos.
Ingredients
1 tbsp olive oil
1 brown onion, finely chopped
2 garlic cloves, crushed
425g can salmon, drained
410g can crushed tomatoes
8 burrito tortillas
1 cup grated cheddar cheese
1/4 cup coriander leaves, to serve
Diced avocado, to serve
Sour cream, to serve
Select all ingredients
Instructions
Preheat oven to 180°C. Grease a 6cm deep, 20cm x 28cm (base) baking dish.
Heat oil in a large, non-stick frying pan over medium-high heat. Add onion and garlic and cook, stirring, for 3 to 4 minutes or until tender. Add salmon and tomatoes. Season with salt and pepper. Cook, stirring occasionally, for 4 to 5 minutes or until heated through.
Spoon salmon mixture onto tortillas. Roll up to enclose filling. Place, seam side down, in prepared dish. Sprinkle over cheese. Bake burritos for 15 to 20 minutes or until cheese is golden.
Serve salmon burritos with coriander, avocado and sour cream.
Ready in just 30 minutes!
8. Canned Salmon Tortellini Gratin
Tortellini at its finest.
Dinner has never been easier!
Ingredients
1(9-oz.) pkg. refrigerated cheese-filled tortellini
1 1/2cups frozen broccoli florets, large pieces cut up
1(10-oz.) container refrigerated light Alfredo sauce
1(5-oz.) can water-packed salmon, drained, flaked
1tablespoon butter, melted
1/4cup Progresso™ Italian Style Bread Crumbs
Instructions
Cook tortellini to desired doneness as directed on package, adding broccoli during last 4 minutes of cooking time. Drain; return to saucepan.
Add Alfredo sauce and salmon; mix well. Cook and stir over medium heat until thoroughly heated. Spoon into ungreased shallow 1-quart casserole or gratin dish. In small bowl, combine butter and crumbs; mix well. Sprinkle over top.
Broil 4 to 6 inches from heat for 1 to 2 minutes or until topping is golden brown.
The best way to eat salmon.
9. Canned Salmon Nachos Supreme
Seriously delicious!
Ingredients
8 oz. tortilla chips
8 oz. shredded cheddar cheese
5 oz (1 can) salmon in water
1 large avocado
1/4 large red onion
1 tablespoon olive oil
1 tablespoon lime juice
1/4 teaspoon black pepper
1/4 teaspoon salt
Instructions
Preheat your oven to 375°F
Spread tortilla chips out on a large baking sheet or cast-iron and sprinkle cheese on top. Bake until the cheese is melted —about 3-5 minutes.
Meanwhile, drain your salmon and add it to a large bowl. Add olive oil and use a fork to break it down.
Dice red onion and smash avocado in a separate bowl. Add red onion, smashed avocado, lime juice, and salt and mix well to combine.
Remove cheesy chips from the oven and add salmon on top.
Optional toppings: Jalapeno slices, diced tomato, chopped cilantro, sour cream, feta cheese
10. Open Faced Green Salmon Melts
You may never go back to tuna after this. Green and healthy canned salmon melts. Top with bacon, avocado, extra cheese or your favorite green salad dressing. Your call. This salmon melt puts your beloved grilled cheese to shame.
11. Spicy Canned Salmon Patties Recipe
Made with canned salmon, these patties are good hot or cold. I usually serve them on buns with slices of ripe tomato, sweet red onion, and red and green bell pepper. You need to make these salmon patties.
Ingredients
1 cup seasoned bread crumbs, divided
2 green onions, finely chopped
1/4 cup finely chopped sweet red pepper
1 large egg, lightly beaten
1/4 cup mayonnaise
1 tablespoon lemon juice
1/2 teaspoon garlic powder
1/8 teaspoon cayenne pepper
2 cans (6 oz.) salmon
1 tablespoon butter
Instructions
In a large bowl, combine 1/3 cup bread crumbs, green onions, red pepper, egg, mayonnaise, lemon juice, garlic powder and cayenne; fold in salmon.
Place remaining bread crumbs in a shallow bowl. Divide mixture into eight portions; shape into 2-in. balls. Gently coat in bread crumbs and shape into 1/2-in.-thick patties.
In a large nonstick skillet, heat butter over medium-high heat. Add salmon cakes; cook until golden brown, 3-4 minutes on each side.
On the table in a flash!
12. Canned Salmon Alfredo Casserole Recipe
Tuna casserole is the ultimate in comfort food—but when it's made with canned salmon and updated with some pesto and fancy pasta, it's also fun to make (and eat)!
Not including the salt for the pasta water or the cooking spray (these are really pantry items), this five-ingredient salmon Alfredo casserole recipe is perfect for dinner on a busy weeknight.
Let the oven do all the work.
Ingredients
Kosher salt
3 cups mafalda, mostaccioli, or penne pasta
1 (10-ounce) container refrigerated cheese or Alfredo sauce
1/2 cup store-bought or homemade basil pesto
12 ounces canned salmon, drained and chopped
Cooking spray
1/3 cup grated Parmesan cheese
Instructions
Preheat oven to 400 F. Bring a large pot of well-salted water to a boil.
Cook the pasta according to directions, taking one minute off the cooking time. When the pasta is almost al dente, drain well.
Meanwhile, combine Alfredo sauce and the pesto in a medium bowl and mix to combine. Add the cooked pasta and salmon, mixing gently.
Pour the salmon mixture into a greased 2-quart glass baking dish and top with Parmesan cheese.
Bake for 15 to 20 minutes until cheese is melted and casserole is hot.
Dive in.
This tasty and easy canned salmon pizza idea is amazing all year round. You may make your own dough, use store-bought or perhaps tortilla. Whatever you choose it is absolutely amazing. Simply substitute the original tuna can for canned salmon. Sooo easy!
These salmon cakes are as classy as crab cakes but far less expensive to make. A mustard-based balsamic vinaigrette flavors moist salmon cakes and also serves as a dressing for mixed greens served alongside.
15. Canned Salmon Lasagna Recipe
This canned salmon lasagna recipe is a delicious, easy, and budget-friendly meal that the whole family will love! It's made with just a few simple ingredients, and it can be on the table in less than an hour. Whether you're looking for a weeknight dinner option or something to take to a potluck, this lasagna is sure to please.
Ingredients
1 can of salmon
1 jar of pasta sauce
1 package of lasagna noodles
1 container of ricotta cheese
1 egg
1/2 cup of grated Parmesan cheese
2 cups of shredded mozzarella cheese
Instructions
In a large pot, cook lasagna noodles in boiling water for about 10 minutes. Drain and set aside.
In a medium saucepan, heat olive oil over medium heat. Add garlic and cook until fragrant. Add canned salmon and tomato sauce and bring to a simmer.
To assemble the lasagna, spread 1/2 cup of the salmon sauce in the bottom of a 9×13-inch baking dish. Arrange 6 cooked lasagna noodles on top of the sauce. Spread 1 cup of ricotta cheese over the noodles and top with 1/2 cup of mozzarella cheese. Repeat the layers, ending with a layer of noodles topped with the remaining salmon sauce and mozzarella cheese.
Cover with foil and bake at 350 degrees F for 30 minutes. Remove from oven and let rest for 5 minutes before serving.
There are a few variations to this recipe that you can try. If you want a lighter version of this dish, you could use cottage cheese in place of the ricotta cheese. If you're looking for a bit more of a flavor punch, you could add some sun-dried tomatoes or olives to the dish.
16. Oven-Baked Canned Salmon Chimichangas Recipe
Looking for a delicious and easy-to-make salmon recipe? Look no further than these oven-baked canned salmon chimichangas! Made with just a few simple ingredients, this dish is sure to become a new family favorite.
Ingredients
1 can of salmon
1 package of large tortillas
1/2 cup of prepared salsa
1/4 cup of sour cream
1/2 teaspoon of chili powder
1/4 teaspoon of garlic powder
1/4 teaspoon of cumin
Instructions
1. Preheat oven to 400 degrees F (200 degrees C).
2. In a bowl, combine salmon, bread crumbs, onion, garlic, chili powder, and cumin.
3. Spread mixture evenly on the tortillas.
4. Roll up the tortillas, and place them seam-side down on a greased baking sheet.
5. Bake in the preheated oven for 20 minutes, or until golden brown.
These oven-baked canned salmon chimichangas are the perfect easy weeknight meal. They're packed with protein and healthy fats, and they're so simple to make. Plus, they're way cheaper than ordering takeout. If you're looking for a quick, healthy, and delicious weeknight meal, look no further than this recipe.
17. Salmon Meatballs With Avocado Crema
This recipe for salmon meatballs with avocado crema is easy and delicious.
The healthy fats in the avocado crema help to keep the salmon moist and flavorful.
Serve these salmon meatballs with a side of greens or rice.
18. Baked Canned Salmon Cakes In Muffin Tins
These muffin tin canned salmon cakes are portioned perfectly for individual servings.
This simple technique yields salmon cakes that are moist, flavorful, and perfect for enjoying on their own or as part of a meal.
19. Cheesy Canned Salmon Spaghetti Casserole
This canned salmon pasta recipe proves it's the best fish in the sea.
This dish is convenient, and you don't have to worry about bones.
The canning process makes them safe to eat as the filet itself.
20. Baked Canned Salmon and Potato Gratin
This innovative baked potato and salmon gratin dish comes together in no time flat.
Grab a baking dish and slather in some Japanese mayonnaise, cheese, bake, and nosh!
21. Baked Canned Salmon Patties Without Breadcrumbs
Baked canned salmon patties without breadcrumbs are a healthy, low-carb alternative to traditional breaded salmon patties.
They're baked in the oven until golden brown and crispy.
These patties are made with just a few simple ingredients and can be baked in the oven in just minutes.
22. Creamy Canned Salmon Macaroni & Cheese
This creamy dish is packed with flavor and is sure to please even the pickiest of eaters.
Salmon is a great source of protein and omega-3 fatty acids, making it a healthy option for those looking for a nutritious meal.
This recipe is easy to make and can be on the table in under 30 minutes.
23. Salmon Pasta Casserole
Orzo, is a form of short-cut pasta also known as risoni, it is shaped grain of rice. You CAN elevate your average pasta dinner with canned salmon! This one-pot dish is easy from start to finish.
This easy pasta dish is ready in a flash. Enjoy it with a creamy garlic sauce and dinner will be on the table in no time. It's perfect for midweek, when you're tired but need to still get your veggie quota.
24. Canned Salmon Noodle Casserole
A quick and easy casserole that anyone can make.
This is a hearty, yet simple casserole that is perfect anytime. It's also very customizable.
Canned salmon noodle casserole is sure to become a family favorite.
25. Canned Salmon Mousse Cups
I make these tempting little tarts frequently for parties. They disappear at an astonishing speed, so I usually double or triple the recipe. The salmon-cream cheese filling and flaky crust will melt in your mouth.
Ingredients
3 ounces cream cheese, softened
1/2 cup butter, softened
1 cup all-purpose flour
Filling
1 package (8 oz.) cream cheese, softened
1 can (6 oz.) salmon
2 tablespoons chicken broth
2 tablespoons sour cream
1 tablespoon finely chopped onion
1 teaspoon lemon juice
1/2 teaspoon salt
2 tablespoons minced fresh dill
Instructions
In a small bowl, beat the cream cheese and butter until smooth. Add flour and mix well. Shape into 24 balls; press onto the bottom and up the sides of greased miniature muffin cups.
Bake at 350° for 10-15 minutes or until golden brown. Cool for 5 minutes before removing from pans to wire racks to cool completely.
For filling, in a large bowl, beat cream cheese until smooth. Add the salmon, broth, sour cream, onion, lemon juice and salt until blended. Spoon into the shells. Refrigerate for at least 2 hours. Sprinkle with dill.
A fancy shmancy appetizer that doesn't take much work.
26. Canned Salmon Pasta Casserole
A quick trip under the broiler gives this pasta bake a melty Parmesan. A little pasta, a little canned salmon. Let the oven do all the work.
Ingredients
1 can (10 oz.) cream of celery soup
1/2 cup fat-free milk
2 cups yolk-free noodles, cooked
1 cup frozen peas, thawed
1 can (5 oz.) water-packed salmon
1 medium tomato, diced
2 tablespoons dry bread crumbs
1 tablespoon butter, melted
Instructions
In a large bowl, combine soup and milk until smooth. Add the noodles, peas, salmon, and tomatoes; mix well.
Pour into a 1-1/2-qt. baking dish coated with cooking spray. Bake, uncovered, at 400° for 25 minutes. Toss bread crumbs and butter; sprinkle over the top. Bake 5 minutes longer or until golden brown.
Perfect canned salmon casserole, every single time.
27. Tex-Mex Baked Canned Salmon Burrito
This gluten-free canned salmon burrito recipe is perfect for picky eaters.
It's a tasty and easy to make salmon eaters love!
If you love Tex-Mex food, then you'll love baked canned salmon burritos.
This recipe can be made ahead of time and frozen, so it's perfect for busy weeknights.
28. Cajun Canned Salmon Croquettes
Canned salmon croquettes are perfect for a quick lunch or dinner.
The word croquette has French origins, but this recipe has a distinctly Southern spin by using hot sauce and Cajun seasoning.
Serve these with a salad or roasted vegetables for a complete meal.
29. Canned Salmon Ziti Bake Recipe
This canned salmon ziti bake recipe is very versatile. If you do not have ziti noodles, you can use any type of pasta you have on hand. You can also add in vegetables, such as kale or broccoli, to make it even more nutritious.
Ingredients
1 (16 oz) box of ziti pasta
2 tablespoons olive oil
4 cloves garlic, minced
1 onion, diced
3 cans pink salmon, drained and flaked
1/2 cup white wine
1 (28 oz) can crushed tomatoes
2 tablespoons tomato paste
1 teaspoon dried oregano
1 teaspoon sea salt
freshly ground black pepper to taste
1/4 cup chopped fresh parsley for garnish
Instructions
In a large pot of boiling salted water, cook the ziti pasta according to package instructions. Drain and set aside.
Heat the olive oil in a large saucepan over medium heat. Add the garlic and onion, and cook until softened, about 5 minutes. Stir in the salmon, wine, crushed tomatoes, tomato paste, oregano, salt and pepper. Simmer until slightly thickened, about 10 minutes.
Preheat oven to 350°F (175°C). Grease a 9×13 inch baking dish with olive oil. Mix the cooked pasta with the salmon sauce.
Pour into the prepared baking dish. Sprinkle with parsley and bake for 25 minutes or until bubbly